Need a meal that is easy to make and will satisfy even the biggest of appetites? Then you will want to try out this Easy Peasy Crock Pot Lasagna from Gooseberry Patch's Speedy Slow-Cooker Recipes!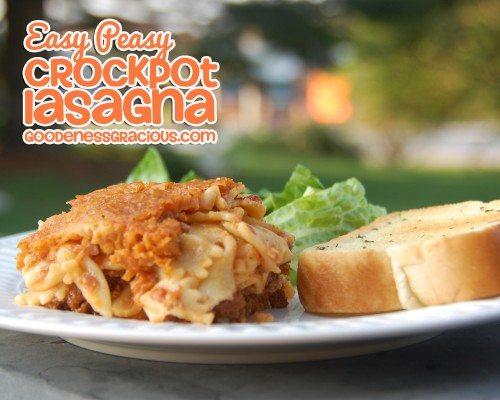 Aunt Lou here.
This lasagna is super easy. "How easy?" you ask! You can read all about it where I first wrote about this recipe over at Goodeness Gracious. It is a great recipe to throw together in the morning and get the praises from your family at dinner that evening.
Another great thing about this recipe is that there is LOTS of it! Some friends of ours have a family of seven…including two teenage boys…and I knew that I had to share this recipe with them. So if you have a large family or a lot of people coming over that you need to feed, this Crock  Pot Lasagna is perfect for you. If you only have a couple of people in your house (like us), then it would be a great recipe to freeze half of.
Now on to the recipe… Put some water in a pot on the stove for your noodles. While you are waiting for your water to boil, place your ground beef in your micro-cooker and throw it in the microwave for 5-7 minutes. Now drain your ground beef and grab your mix 'n chop to stir it up before putting it back in the microwave.
Once your water is boiling on the stove, throw in your noodles along with some butter (this helps to keep your noodles from sticking) and set your timer for 8 minutes. When the timer goes off, drain your noodles.
Mix together your ground beef and pasta sauce. Make sure you use at LEAST the amount of pasta sauce in the recipe…if not more. That way it is nice and moist.
Layer half of your ground beef and pasta sauce mixture in the bottom of a greased crock pot. Then you place half of your pasta…then half of your cottage cheese…THEN half of your shredded cheese. And repeat.
Put the lid on your crock pot and set it on low for 6-7 hours. Don't let it go for 8 hours…the edges get too dark…not that I would know from personal experience or anything. 🙂 If you don't have as much time and need to cook yours on high, set it for about 3 hours.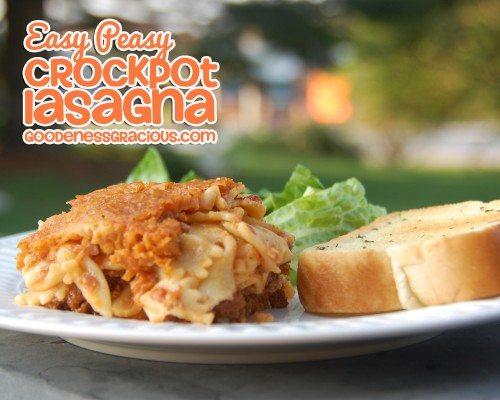 A romaine heart  salad and garlic bread make the perfect compliments to round out this yummy meal.
Crockpot Lasagna
Ingredients
1-2 lbs ground beef browned and drained
28 oz jar of your favorite pasta sauce
8 oz cooked bowtie pasta
12 oz cottage cheese
16 oz shredded mozzarella cheese
Instructions
Prepare ground beef and noodles seperately
Drain beef and noodles
Combine beef and pasta sauce
Spray crockpot with cooking spray
Place half of the beef and sauce mixture in bottom of crockpot
Place half of the pasta on top
Place half of the cottage cheese on top
Place half of the shredded cheese on top
Repeat layers
Cover and cook on low for 6-7 hours or high for 3
Affiliate links were used in this post.