The holidays are coming up and that usually means lots of company. Wouldn't it be wonderful to have a hot, yummy breakfast waiting for everyone when they wake up? Well, this Crock Pot Steel Cut Oatmeal is the answer to your prayers. And better yet, it is Apple Cinnamon flavored! Yum!
Updated now with a video from Mikey!
Aunt Lou here.
To be honest, I had never had steel cut oatmeal before Cris introduced me to this yummy deliciousness. And, well, as long as we are being completely honest, I didn't even know steel cut oatmeal even existed until I heard it mentioned in a Gilmore Girls episode. (A girl can learn a lot from all the information packed into those quirky conversations!)
We grew up on Old Fashion Quaker Oats with a little bit of butter and sugar. It was yummy and is actually one of my comfort foods. After having Ryder, I was sure that I was completely over my head when we got home and possibly a bit panicked. Thankfully, Momma stayed with me a few days, and she made me the oatmeal of my childhood. It always made me feel a little better.
Then we go visit Cris and she blows me away with this flavorful creation. I am a texture girl, so I was a bit leary. But these definitely passed the test! Plus, it is so easy to make and was waiting for us when we woke up on Saturday morning! Awesome!
Are you a little leery of making oats in your slow cooker because it runs a little hot? Never fear! You can make your crock into a double broiler easy peasy! So you can make those steel cut oats in your crock pot without a care in the world! (And by the way, I was there for the really bad breakfast casserole Cris mentions here. I love my sister. And she is one flat out good cook, but mercy…that was not a fun experience! THIS recipe though, is fabulous!)
All you have to do is put a glass bowl inside your crock pot and add water around the bowl until it is halfway up the side of the bowl (it is super important to make sure it goes halfway up the side of the bowl…you don't want water boiling over into your delicious oatmeal).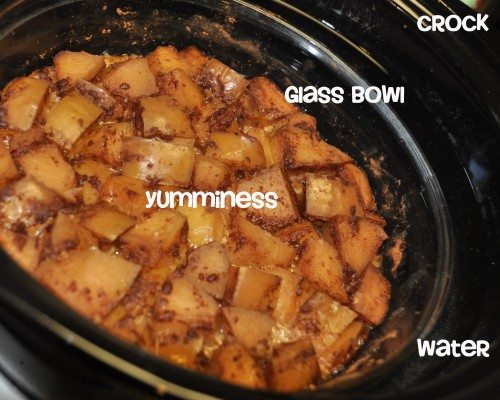 You also want to make sure you use Steel Cut Oats…NOT Old Fashion Oats. There is a big ol' difference when it comes to cooking times. Steel cut oats are made for an overnight stay in the crock pot, old fashion oats are not.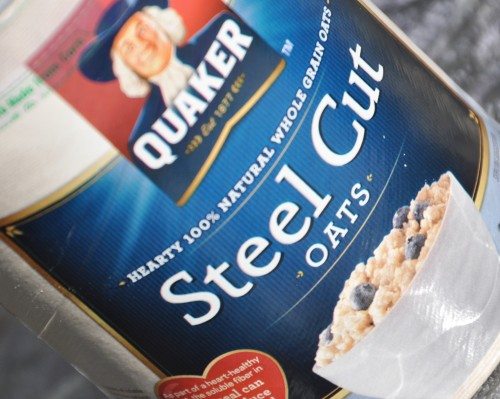 We are usually the company and don't have many people come stay with us…but I do believe I will have to make this sometime very soon. It is just perfect for a morning where there is a bit of a chill in the air.
Have I kept in you in suspense long enough? Here's the recipe!
Crock Pot Steel Cut Oatmeal: Apple Cinnamon
Print
Pin
Rate
Total Time:
8
hours
10
minutes
Ingredients
2

Apples- Cored & Chopped

Peel if you like, I leave the skins on mine

1

tsp

Cinnamon

2

T

Brown Sugar

I use Brown Sugar Splenda Blend

1

tsp

Vanilla

2

Tblsp Light Butter- Cut into Pieces

1

Cup

Steel Cut Oats

1 1/2

Cups

Skim Milk

1 1/2

Cups

Water

note this is an ingredient for the inside of the bowl, additional water will be needed for double boiler

Garnish: Nuts

Raisins
Instructions
Place glass bowl inside your crockpot and add water outside of the bowl until it reaches halfway up the bowl.

Add all ingredients inside the bowl except garnish and stir.

Cook on low for 8 hours.

Stir well and serve with garnish.
I'm wife to Michael (not Mikey 😉 ) and mom to Mr. Ryder and Miss Iyla. I'm just walking through this life step by step focusing on enjoying the little things in life. I am in awe of the many blessings big and small I receive daily from a pretty amazing God who calls me His own. Sometimes life is crazy and messy, but I am loving every minute of it.